Product Detail
Product Tags
Construction & Material
Main Carcass
Main Lining / Inner Tube: Smooth, oil and fuel resistant Pure Seamless and Extruded Acrylontrile Butadiene Rubber (NBR);
Safety Lining: special construction to prevent defects or damage cause by incidental tearing or superficial damages of the main lining;
Reinforcements: Multiple Plies of High Tensile Textile cord. One embedded helical Body Steel wire.
Single Carcass And Double Carcass
Outer Cover:Smooth black, Synthetic Rubber Resistant to Abrasion, Oil, Sea Water and Sunlight.
Fittings:End connections built in during manufacture. ASME B 16.5 Class 150lb or 300lb Weld Neck Flat Face or Raised Face on request.
Hose Tests:All tests according to GEPHOM 2009 and Customer detail.
Standards and Specifications
Zebung single carcass hoses are designed and produced in full accordance to OCIMF standards. These products are also subjected to manufacturing and testing requirements dictated by ISO 9000:2001 quality standards.
Rated working pressure
The oil hoses have a RWP of at least 15 bar. 19 bar and 21 bar hoses are also available if specified by the customer. They are suitable for operation at an internal pressure from minus 0.85 bar to the RWP.
Flow Velocity
The linings of Zebung submarine hoses are constructed from elastomers and fabrics suitable for continuous operation at a flow velocity of 21m/s.
Application
The submarine hoses are suitable for use with crude oil and liquid petroleum products from -20℃ to 82℃, and an aromatic hydrocarbon content no greater than 70% by volume.
Electrical Continuity
A low resistance connection will be provide with a copper wire and helix steel wire.
Characteristic
1. connecting tanker and discharge facilities
2. rated working pressure: 21 bar
3. electrical continuity: electrical continuous or discontinuous
4. leak detection system: after the failure of the primary carcass, the detector will react to the leakage to remind the operator to remove the damaged hose to avoid economic loss and environmental pollution.
Specifications can be designed by customer requirements.
I.D. / mm

Weight in air / KG

O.D. / mm

M.B.R. / m

9.1m

10.7m

12.2m

A

B

150(6")

342/137

380/152

418/167

305

210

0.6(2.0')

250(10")

639/272

712/299

785/326

415

320

1.0(3.3')

300(12")

810/305

902/334

994/363

485

375

1.2(4.0')

400(16")

1216/560

1359/619

1502/678

575

475

1.6(5.3')

500(20")

1600/778

1792/858

1984/938

695

580

2.0(6.6')

600(24")

2404/1180

2680/1309

2956/1438

810

700

2.4(8.0')
Floating tubing BV certificate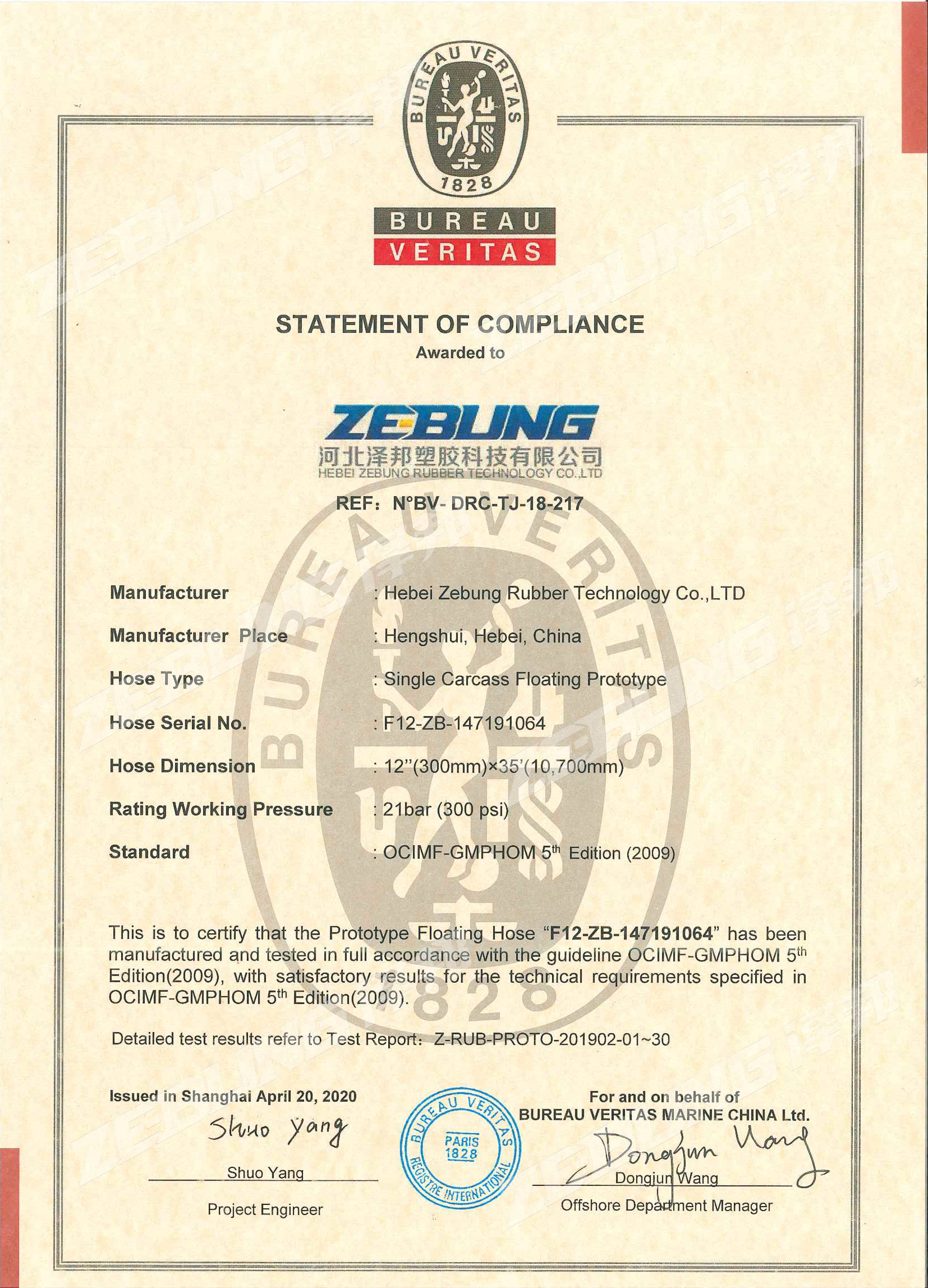 Underwater tubing BV certificate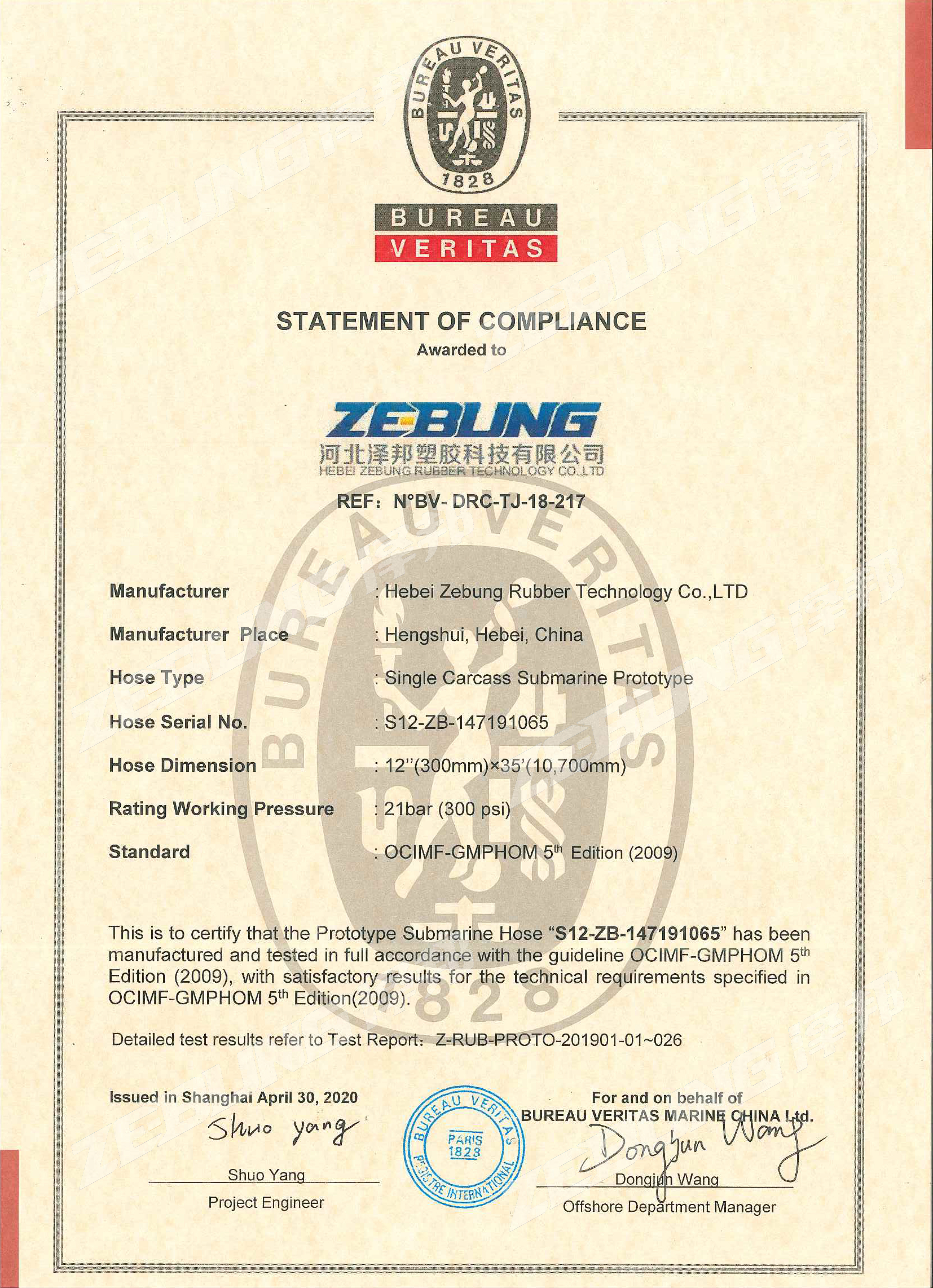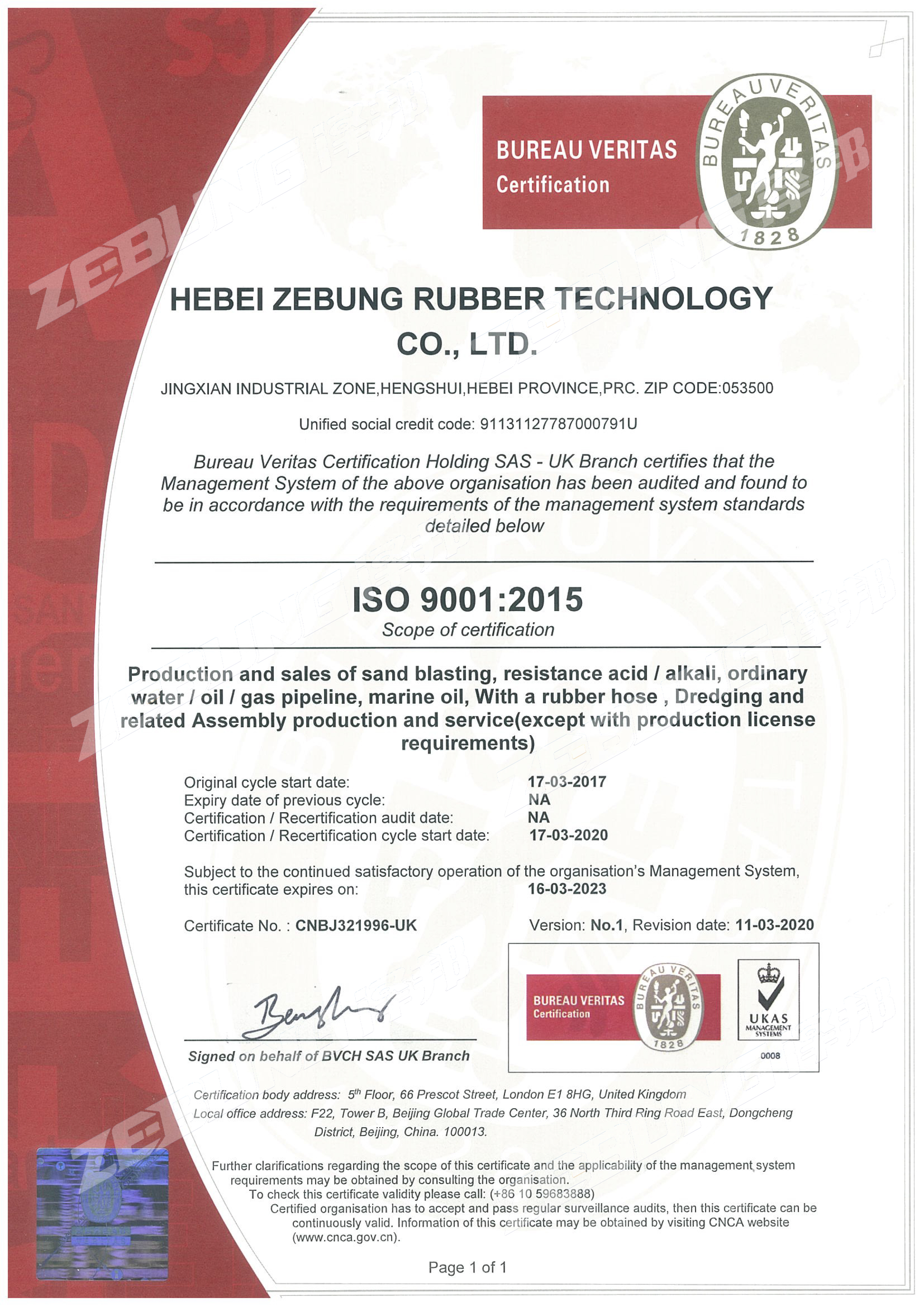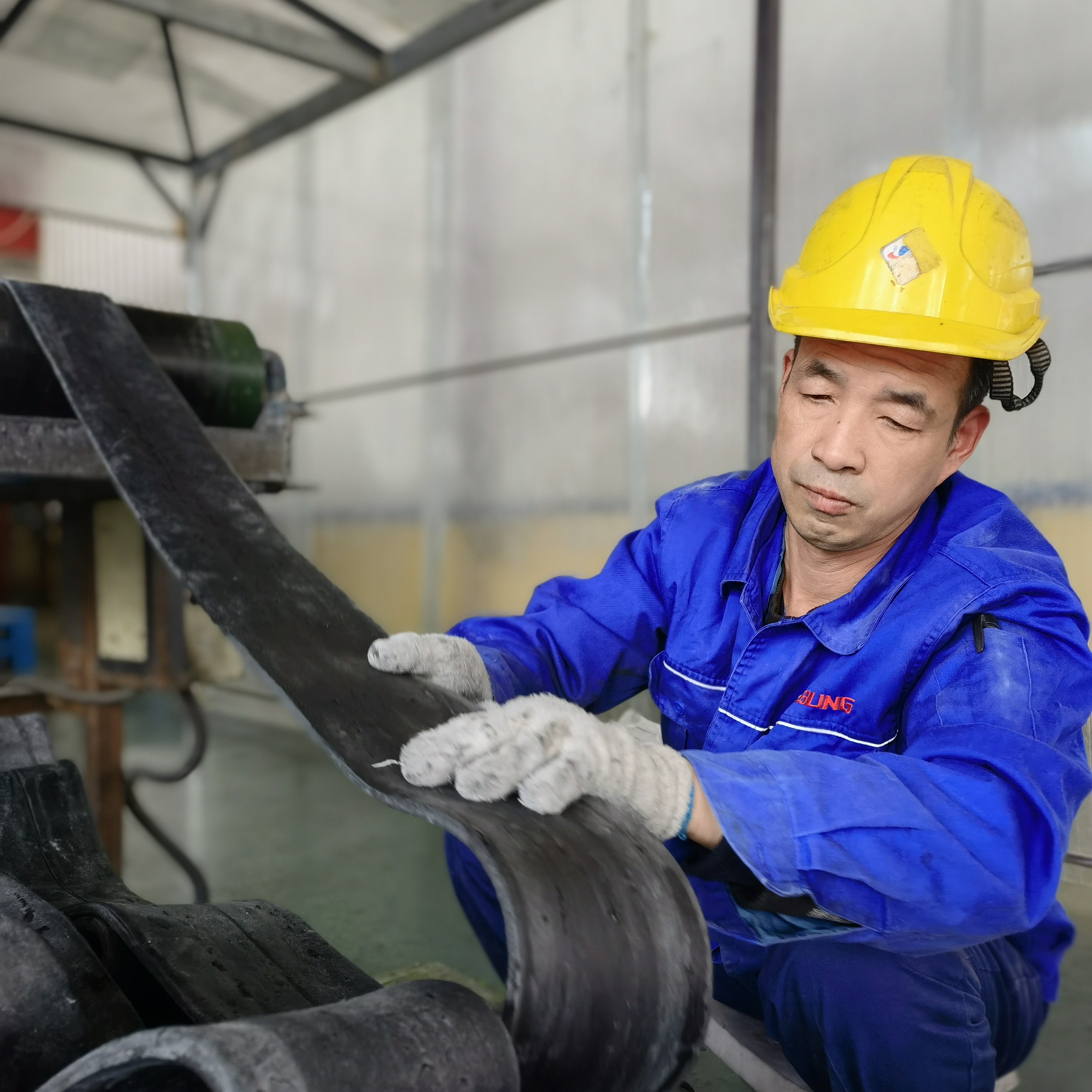 Own film production base
The quality of film directly determines the quality of hose. Therefore, zebung has invested a lot of money to build a film production base. All hose products of zebung adopt self-produced film.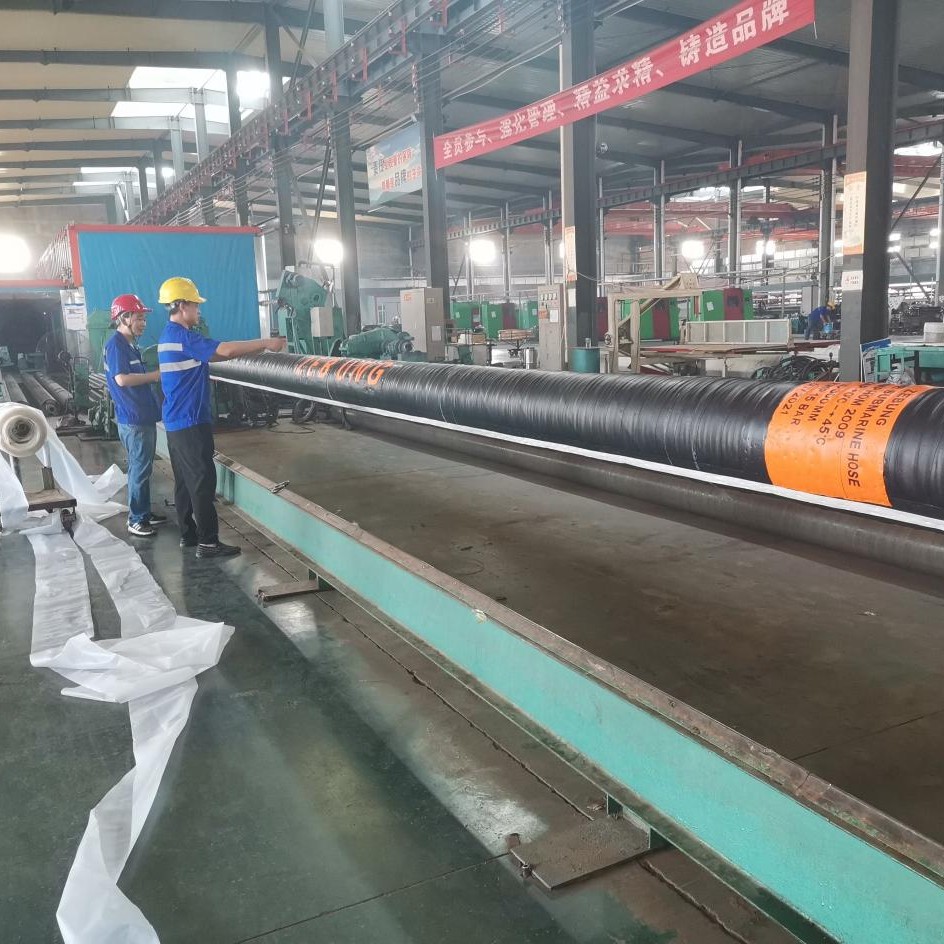 Multiple production lines to ensure production progress
Our factory has many modern production lines and a large number of experienced technical engineers. It not only has high quality production quality, but also can ensure the customer's requirements for the supply time of products.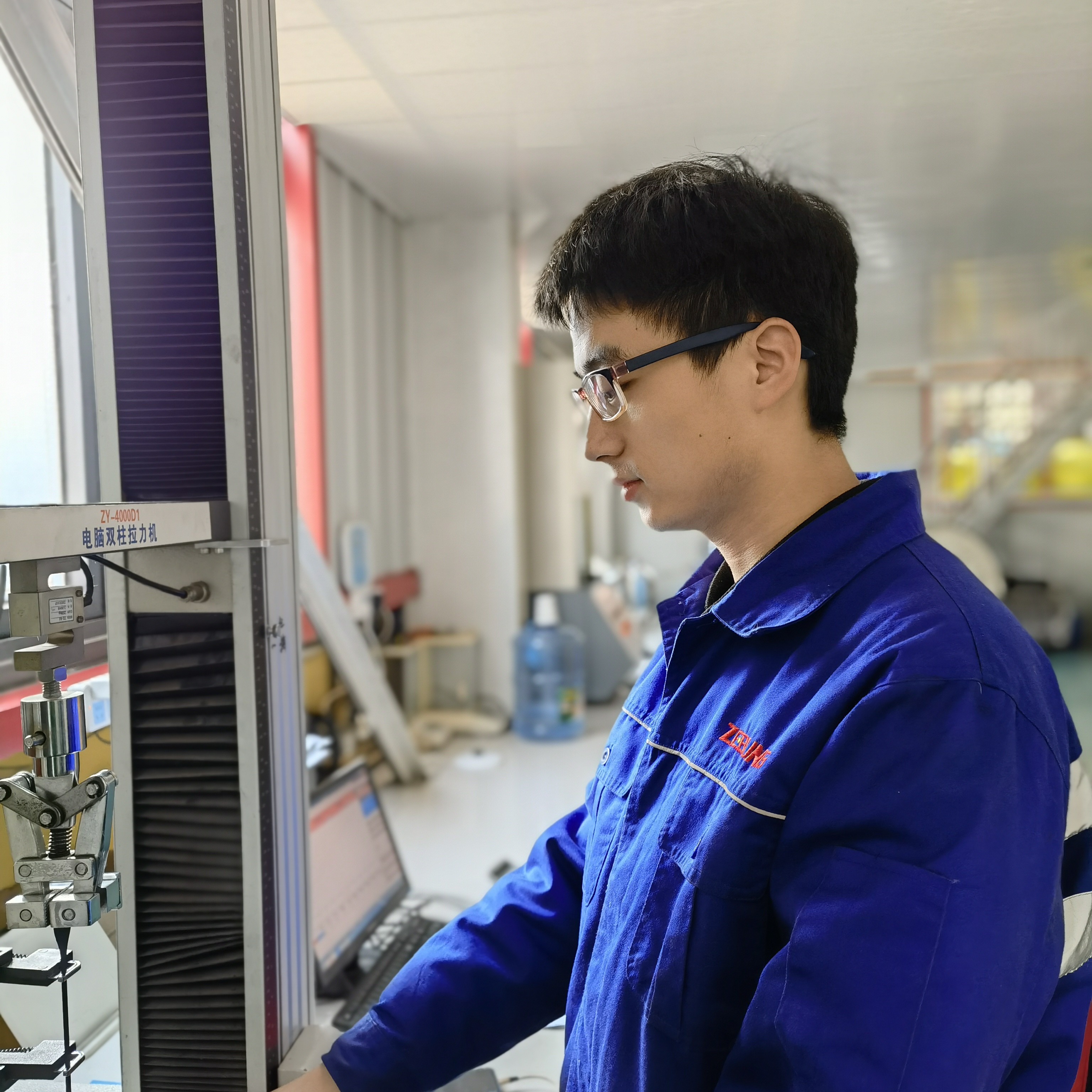 Each pipeline product is subject to strict inspection before leaving the factory
We have established a high-tech product and raw material testing laboratory. We have been committed to the digitization of product quality. Each product needs to go through a strict inspection process before it can leave the factory after all product data meet the requirements.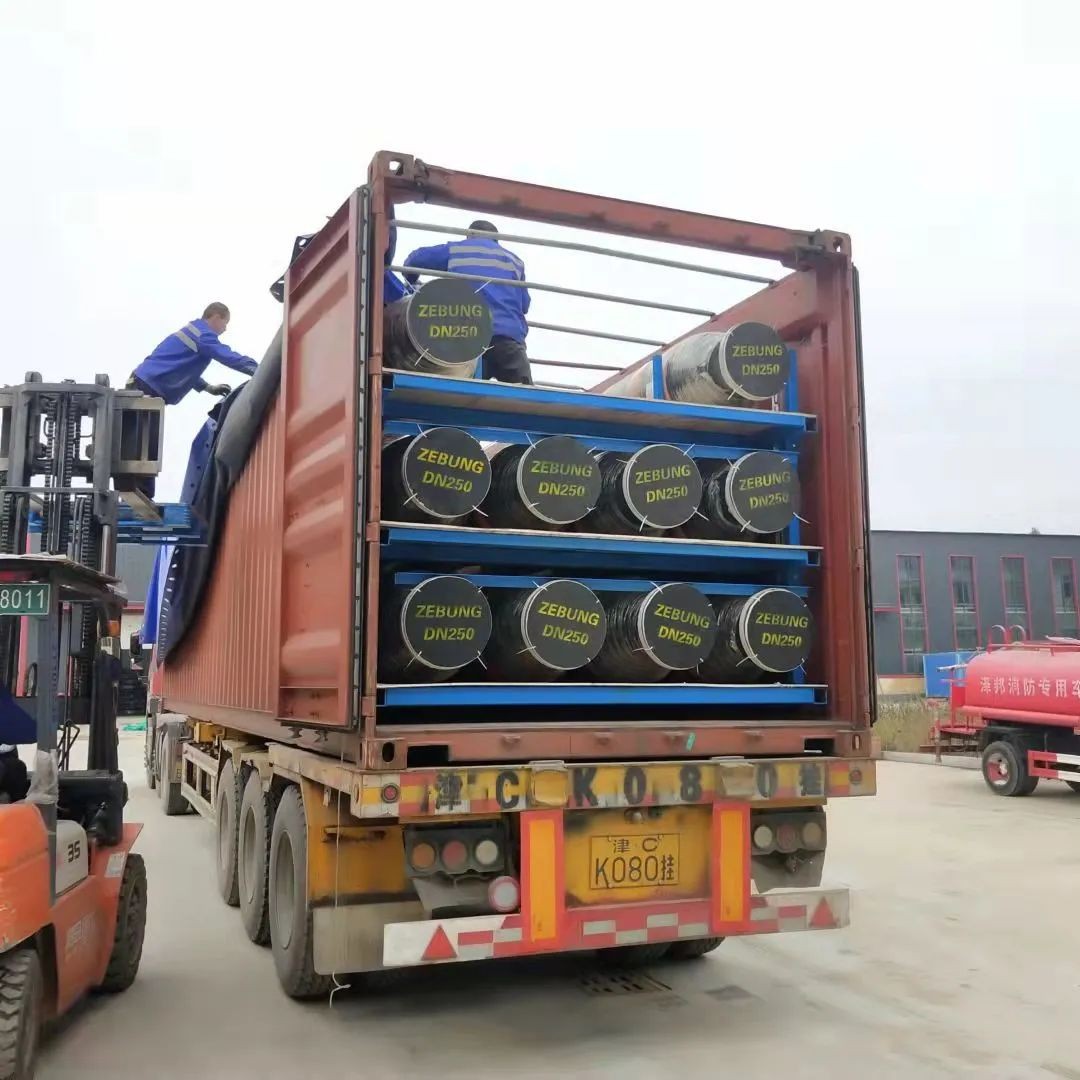 Covering the global logistics network and strict finished product packaging and delivery process
Relying on the distance advantages of Tianjin port and Qingdao port, Beijing Capital International Airport and Daxing International Airport, we have established a fast logistics network covering the world, basically covering 98% of countries and regions around the world. After the products are qualified in the off-line inspection, they will be delivered at the first time. At the same time, when our products are delivered, we have a strict packing process to ensure that the products will not cause losses due to logistics during transportation.
---
Previous:
Tail Floating Hose
---
Leave your details and we'll contact you at the first time.
Write your message here and send it to us