Tanker Rail Floating Hose
Product Detail
FAQ
Product Tags
Construction & Material

Main Carcass
Main Lining / Inner Tube: Smooth, oil and fuel resistant Pure Seamless and Extruded Acrylontrile-Butadiene-Rubber (NBR);
Safety Lining: special construction to prevent defects or damage cause by incidental tearing or superficial damages of the main lining;
Reinforcements: Multiple Plies of High Tensile Textile cord. One embedded helical Body Steel wire.
Cover: Black Syntetic Rubber Smooth oil and fuel resistant.
Single Carcass And Double Carcass
Floating Material : Closed cell Foam.
Outer Cover:Smooth black, Synthetic Rubber Resistant to Abrasion, Oil, Sea Water and Sunlight.
Helical Orange strip.
Fittings:End connections built in during manufacture. ASME B 16.5 Class 150lb or 300lb Weld Neck Flat Face or Raised Face on request.
Tests:All tests according to GMPHOM 2009 and Customer detail.

Application
The floating marine oil hose is designed for transportation of crude oil and liquid petroleum products between loading and unloading vessels at offshore mooring systems.

Characteristic
1. connecting aft manifold and tail hose
2. lifting lugs should be able to sustain loads, minimum breaking load is 12"=100KN 16"=150KN 20"=200KN
3. rated working pressure: 21 bar
4. minimum reserve buoyance: 20% or according to customer requirements
5. electrical continuity: electrical continuous or discontinuous
6. leak detection system: after the failure of the primary carcass, the detector will react to the leakage to remind the operator to remove the damaged hose to avoid economic loss and environmental pollution.
Specifications can be designed by customer requirements.
I.D. / mm

Weight in air / KG

M.B.R. / m

9.1m

10.7m

12.2m

150(6")

524

576

628

0.6(2.0')

200(8")

726

817

908

0.8(2.7')

250(10")

931

1037

1143

1.0(3.3')

300(12")

1091

1225

1359

1.2(4.0')

400(16")

1650

1839

2028

1.6(5.3')

500(20")

2200

2550

2800

2.0(6.7')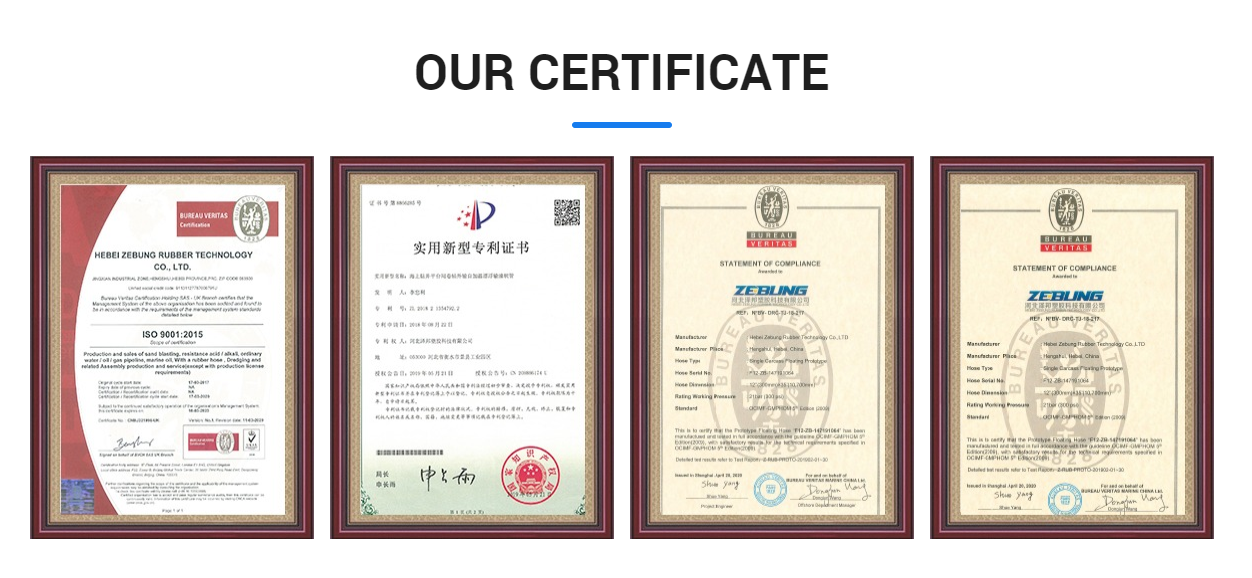 Details Images
---
Previous:
Tail Floating Hose
Next:
Mainline Submarine Hose
---
Write your message here and send it to us